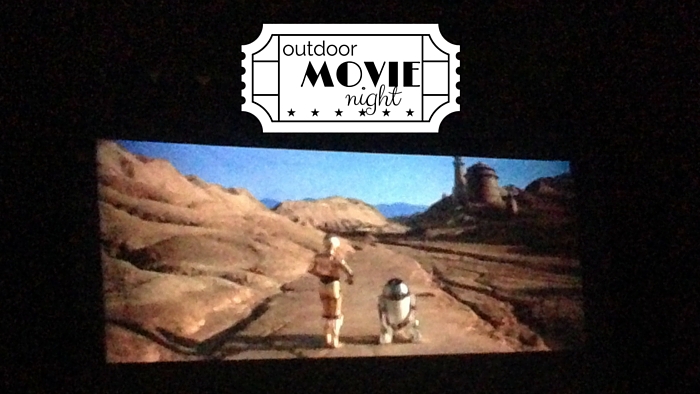 13 Aug

outdoor movie night in your own backyard

Who wouldn't enjoy sharing their favorite scenes from a Star Wars movie at your very own outdoor movie night hosted on a warm summer evening in your own backyard? Of course, it would preferably be a scene from from the original Star Wars trilogy. Whether you enjoy Star Wars or not, your own outdoor movie theater is an easy project to set up provided you have a few key pieces of technology.
Outdoor Movie Night Equipment Set Up
You will need a:
Projector
Let's talk about the biggest barrier to entry in your outdoor movie set up, because chances are you have almost everything else except the projector. Although not cheap, if you are patient and keep the intention of finding a great deal, you can find one. We got ours from Woot! Although I'm not entirely sure of the price, since it was a few years ago, I believe it was in the realm of $150-200. At the time the retail price of it was $400. Also to be honest, our projector sat in a cupboard far removed from the world for years. So, I was excited to be the instigator of actually using this cool piece of technology. This projector was meant to fulfill its destiny for entertainment; I was happy to help it do so and allow it to start paying itself back making unforgettable, priceless family memories.
I used an Optoma Pocket Pico PK301Plus projector. It can run unplugged on the internal battery for up to 90 minutes, but I ran an extension cord. It is also only 75 lumens. Lumens of this quantity mean you can really only see the projection clearly in a fairly dark room, or outside after sunset, which is perfect for home use and outdoor movie night. As a comparison, full size projectors typically have anywhere from 2,500 or more lumens. The Optoma  though is very small and light, which is great for storing and travel. The resolution of 854×480 with a 16:9 aspect ratio produces a nice looking movie. They have a new model, PK320, on Amazon now for $370, and it has 100 lumens, which would make it even brighter. You can look around or a full size projector or used one for less money too. If you are looking for something to use for just one night, google projector rentals, and you might find one in your area or online that will only set you back $100 or so for a night.
Movie
Of course once you have the projector, you'll need something to project. My soul was thrilled for the projector to show Return of the Jedi as its inaugural outdoor movie; though the Wizard of Oz would have been equally cool. Those cute little Ewoks are cute on the big screen though, yub, yub! I played the DVD using my laptop connected to the projector. Alternatively you can use any portable computing device that will play/store your movie and has video out capabilities; this includes: iPads, iPhones (4 or later), iPod touches (4th generation or later) and iPad minis.
Speaker
Although your projector may come with a built-in speaker, chances are it might not be loud enough for your outdoor movie; the same can be said of any speaker built into your laptop or iDevice. That's not to say you need a fancy or expensive external speaker. You can always try the built-in speaker and see if it's loud enough for your space. I used this weather resistant Eddie Bauer speaker I had picked up from Grocery Outlet for $20. It worked great. If you are using a small iDevice and have no other speaker option, try putting it inside a large bowl to amplify the sound.
Cables
The cable set up is very simple. You will definitely need a cable  for video and possibly another for audio for your outdoor movie set up. The cables needed depend on your equipment set up. Your projector may or may not have come with the cord you need. In my case, it came with a proprietary cable that I connected to my laptop's VGA port. However, my projector also has an HDMI port, although it is a mini HDMI input. So if I used it, I'd need a mini-HDMI to HDMI cable, $7 on Amazon. If you are using an iDevice, you'll need an Apple connector, which you will then use to plug in the HDMI-to-mini-HDMI cable. Apple has a couple of different adapters, so you'll need to know which one is compatible with your device. Check out Apple's cable compatibility chart here.
For audio, if you are using a cable that doesn't support audio, like the VGA one I used, you'll plug in your speaker into the headphone jack of your laptop. However, if you are running an HDMI cable which does transmit audio, you would plug the cable from the speaker into the audio out jack of your projector. You might need an extension cable if your speaker cable isn't long enough to reach your projector or computer.
Screen
The screen is probably the easiest, and most affordable part of the outdoor movie set up. If you have a large, exterior, light colored wall than you're in luck; you don't need to do anything else. If not, a simple white sheet or drop cloth is the answer. A trip to the second-hand store for an old sheet, or the hardware store for a drop cloth or tarp will take care of it. Be sure to pick up some double sided tape or small clamps to attach your sheet.
Lastly, you'll need a place high enough and far enough back  from the screen to place the projector in order to see the outdoor movie fully. In my first set up, I brought out a ladder, and used bungee cords to safely mount it. I had a small folding table close by so the cords could all reach, and I could place my laptop and speaker on the table. After my first time, I realized my projector had a tripod; since I had one, I mounted it on the tripod, which worked great too.
Although the projector is a bit of an investment, you'll definitely have a blast with friends and family enjoying your private outdoor movie theater in your own backyard. You can host private screenings all summer long, and enjoy your favorite movie snacks and drinks in good company where everybody will say yum! and create unforgettable memories. Set up, sit back, and relax while you enjoy the show!
How To Set Up Outdoor Movie Night
Author:
Kris Johnson at sayyum.com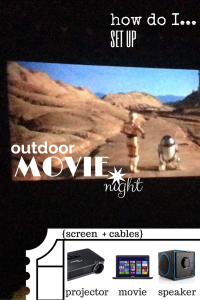 Ingredients
movie of your choice on portable computing device (laptop, iDevice, ect., smartphone) with video output capabilities
speaker
projector (recommend 50 lumens or more)
tripod/ladder/other place to rest projector
video cable-to connect video output from device to video input on projector (cable type varies with devices)
clean, white sheet/tarp/drop cloth with clips/tape to attach (only if no light colored wall space is available)
extension cord (optional, depending on battery life of device and projector)
Instructions
If you don't have enough wall space that is light enough to, find a flat surface or solid objects to which you can attach a sheet. This can be to a fence, between trees, or even an exterior wall using double sided tape. You might have to MacGyver it.
Find a safe place in a suitable viewing distance from your screen to place the projector and place on ladder/tripod/etc.
Connect power if using.
Connect video output from device to projector. You might have to use an adapter if using an iDevice.
Connect audio output from device to speaker or from projector to speaker.
Play movie using device with screen output to external source; this will vary depending on what OS you are using.
Get comfy and enjoy the show!
Comments