25 Jun

mudpot natural mud mask: glowing skin out of the ground
Kristina Johnson
Kristina Johnson is passionate about all things sustainable and delicious, on a mission to make the world a better place. She is a writer, culinary professional and sustainable living expert splitting time between the keyboard and kitchen.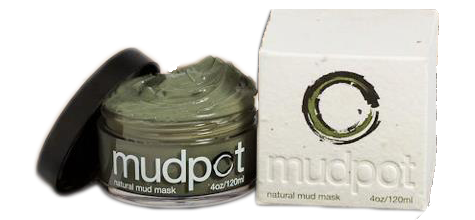 Let's just say my skin care regime is far from robust. On a given day I rely on my face wash and moisturizer. Although as I age gracefully, I am interested in discovering new products that revitalize my skin with life. Products that utilize earth friendly, natural ingredients and packaging are especially appealing to me. I believe your skin is like your stomach, you should do your best to only put products on your skin that you'd be willing to put in your body. Now I'm not going to make a mud pie with mudpot today, but at least if my four year old did, he'd be in good shape. Anyway, one day this summer while on a girl's getaway with my sister, preparing for  spa day and sipping champagne after a successful night of gaming, I was ecstatic when she  introduced me to mudpot.
I've previously done other facial masks. I tend to save them for special occasions while relaxing with other women. It's always fun to sit around, put goopy stuff on your face, enjoying cocktails and swapping stories. My fond memories of these occasions have typically been of my company, and not the mask, until now.
After the first use of mudpot, my skin was glowing. It completely tightened my pores and left it feeling as soft as silk. I was blown away by the results. It was like someone airbrushed my skin for a photograph. I'll admit I couldn't leave it on as long as the maximum time of twenty minutes. I found after five to ten minutes the tingly sensation of the mud "working" on my skin was about as much as I could handle. My sister on the other hand was able to enjoy the full twenty minutes. She has used it many times though. So perhaps your skin builds a tolerance to the tingles.
We also debated about whether to let it dry or not. The instructions say to spritz it to keep it wet. I always do things by the book, it's my nature. My sister is the opposite. She knows the folks at Black Rock Mud Company and claims they say it is also good to let it dry. I just used the mask again and let it partially dry. I still experienced the same astonishing results. In fact this time it totally cleared up the end of a mild skin reaction from sunscreen. I usually have pretty resilient skin, so the reaction was surprising. I was so relieved the mupot seemed to cure the remaining irritation. Back to the mud drying factor, I don't believe it matters whether you let the mask dry or not. All that matters is that you use it!
Mudpot is an amazing concept and product. The product comes from the Earth, plain and simple, NOTHING else added. Located in an area known as Great Boiling Springs in the Black Rock Desert, Nevada. From small mud volcanoes and mudpots, the mud bubbles up to the surface from deep in the Earth. The folks at Black Rock Mud Company sustainably harvest the mud only twice a year, with each harvest producing varying amounts and unique characteristics like a fine wine. Adding to the true earth friendliness of the product, they package the mud in a recyclable jar and place it in a box made with recycled, handmade paper embedded with wildflower seeds. The box can be returned to the earth, watered and produce a yield of beautiful wildflowers.
I really find this product astounding both for its results and the company's responsibility to nature. You can learn more and purchase mudpot here.
say yum to mudpot!
Disclosure:
We received this product as a free sample. In accordance with our disclosure policy, we always give honest opinions, findings, beliefs, or experiences on topics or products. We only post topics and products that we believe are beneficial to our readers and personally use
Comments