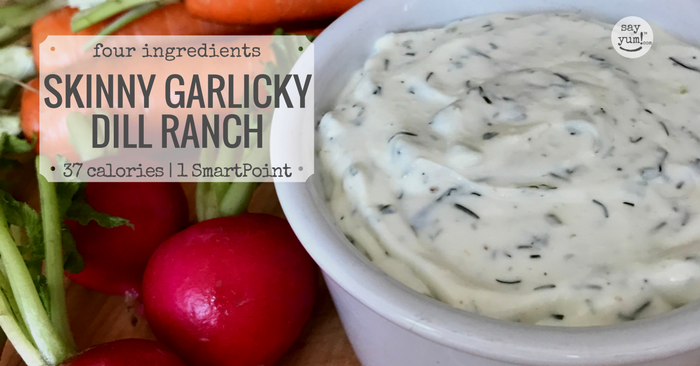 30 Mar

local spice love for your crudite: skinny garlicky-dill ranch recipe + review

Sometimes your usual meals need a lil' sometin' somethin' to take them for ordinary to extraordinary. Like most people our meals tend to be the same week-to-week. Since I started experimenting with some new spice blends, my go-to meals took on new life, and I reinvented my skinny garlicky-dill ranch recipe.

It's not easy to make your own rub or seasonings that deliver balanced and deep flavors or find them on the shelves without a ton of salt or additives. However, one philanthropic San Francisco Bay Area spice company, Legion of Spice, delivers such products with free shipping and great value. Their good for you spice blends are perfect for grill season or your next weeknight meal and an easy way to take your food to the next level.
Spicy, Meal Inspiration
Using their Bayou Black Cajun in my famous green goddess dressing, added the subtle level of heat it needs with traditional Cajun flavors to round out the experience. In my skinny jambalaya recipe, the spice blend adds in the complex flavor missing from replacing andouille with turkey kielbasa, so it still reminiscent of this southern staple.
Another unexpected delight was the This Is Sparta, which I keep wanting to call I am Sparta…Used in my skinny greek chicken gyros it delivers a depth of flavor not found by the usual oregano, garlic, onion and Italian seasoning.
The skinny garlicky-dill ranch recipe below features their Garlic Head and uses only four ingredients, including the spices! It also enhances any meat or veggies. Used with ground beef it dishes out the perfect burger flavor.
All of the spices I tried delivered a surprising, flavor upgrade to my recipes and will be using them as my go-to spices and will be purchasing their other flavors to try.
Exclusive Reader Discount
As a loyal reader, you can enjoy 15% off your purchase, free samples and free shipping from Legion of Spice using the coupon code 'Legion15'. Their current offerings include:
Rubs
Bayou Black Cajun rub & seasoning
Black n' Bluesy – Cajun & Blue Cheese rub & seasoning
I'm A Jerk – Jamaican Jerk rub & seasoning
This Is Sparta – Mediterranean Herbs rub & seasoning
Seasonings
Garlic Head – Garlic seasoning
Fire + Garlic – Garlic & Habanero seasoning
Operation Everything – All purpose seasoning
Operation Everything Spicy – All purpose spicy seasoning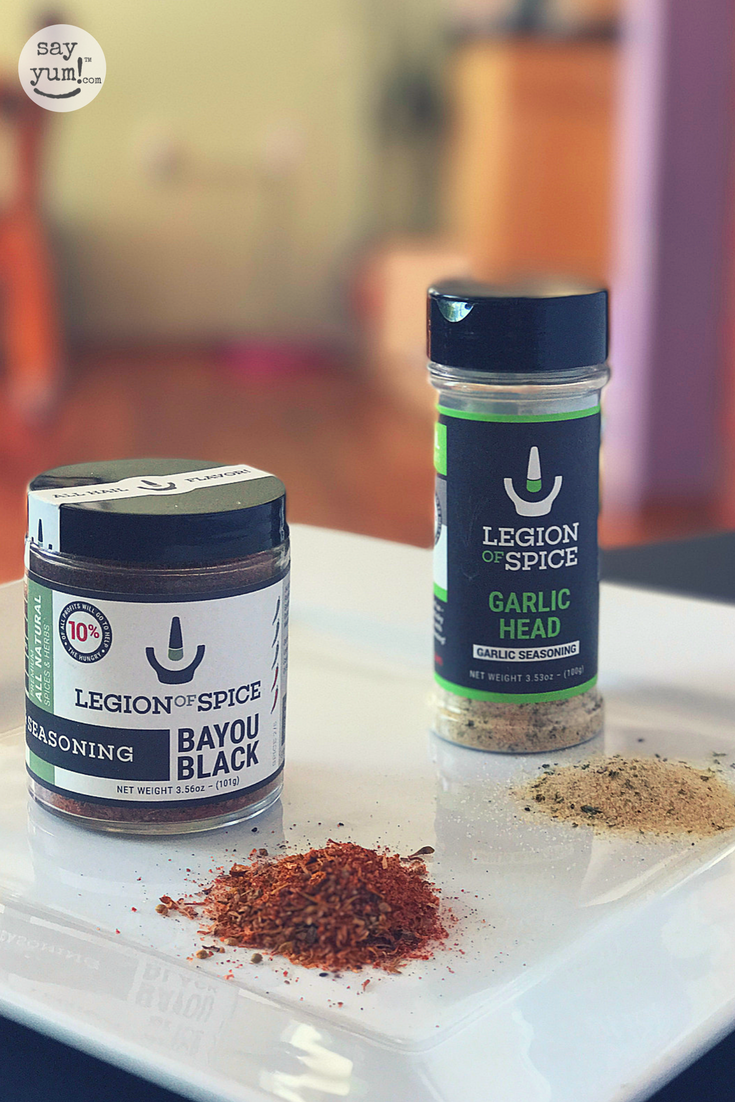 Healthy Ingredients and Company
As someone concerned about where my food comes from, and actively voting for better food products and practices, it was wonderful to discover Legion of Spice. Their spices use healthy ingredients, low salt, no MSG, fillers, or anti-caking agents. Besides their obvious passion for spices, they operate with an importance on philanthropy and donate 10% of our profits to help feed the hungry.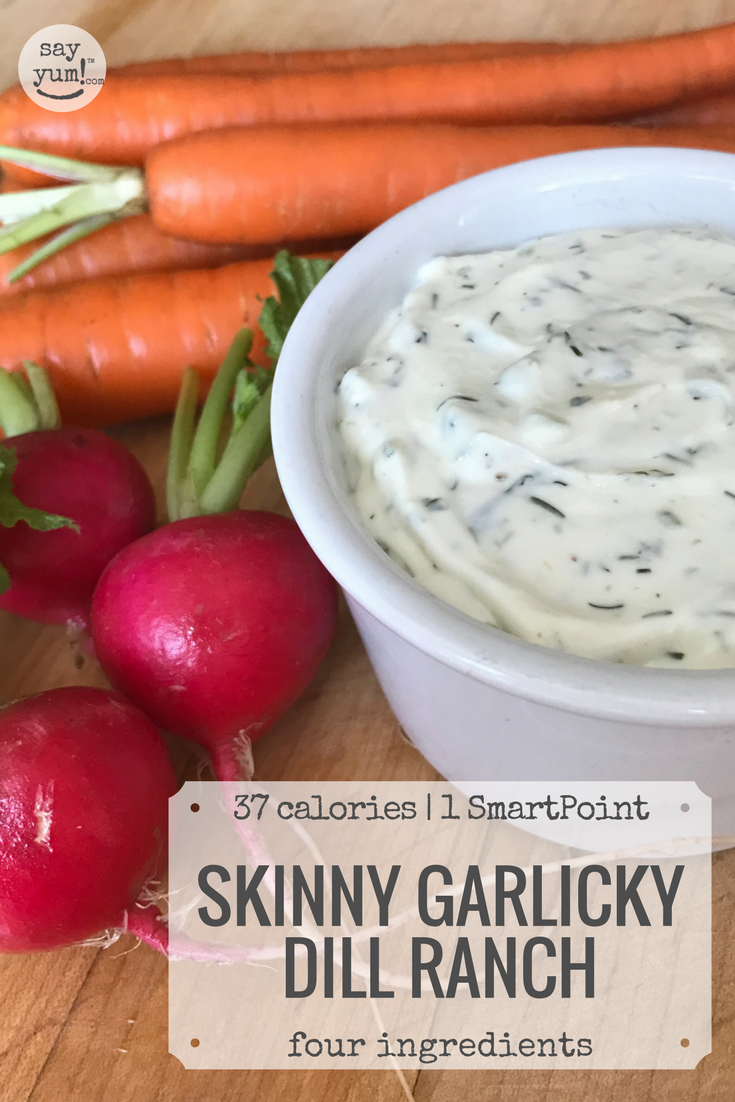 Skinny Garlicky-Dill Ranch Dip + Dressing Recipe | Four Ingredients

Inspired by a Toronto based restaurant, St. Louis, where I was indoctrinated into bar culture and found my love of chicken wings, this simple attempt to recreate its signature dipping sauce satisfies my cravings away from home.

Ingredients

1/2 cup Greek yogurt, 2%

1/4 cup Greek yogurt, full fat

1/4 cup light mayonnaise

3/4 tsp Garlic Head spice blend from Legion of Spice (discount code above, substitution notes below)

2 tsp Organic Dill Paste from Garden Gourmet or substitute 2 tsp dried dill

Instructions

Mix together all ingredients in a resealable jar or container.

Notes

If you can't get the Garlic Head spice blend, you can substitute 1/4 tsp garlic salt, 1/4 tsp garlic powder or granulated garlic, 1/4 tsp onion powder.The flavors won't quite be the same since the LoS blend has a depth of flavor the substitutes don't quite achieve.

7.8.1.2

5

https://www.sayyum.com/skinny-garlicky-dill-ranch-recipe-legion-of-spice-review/

copyright © say yum™ 2005-2017. all rights reserved.
Skinny Garlicky-Dill Ranch Recipe Nutrition Info | Calories + SmartPoints
Serving size: 2 Tbsp
Weight Watchers: 1 SmartPoint per serving

Legal Stuff | Disclaimer:  I voluntarily posted this review and received no other compensation, other than spice samples from
Legion of Spice
. All opinions are my own, and honest.
Comments