22 Mar

is organic fresh meal delivery worth it? – green chef review

Who wouldn't try something that feeds you while saving you time, mental anguish, is healthy and explodes with flavor? Me, until recently. I finally tried a ready-to-cook, fresh meal delivery service and here's why I'm in love with it and still subscribe even after my new customer discount, and being an well-experienced home chef and meal planner. If you're interested in trying it out, you can for free using the link below.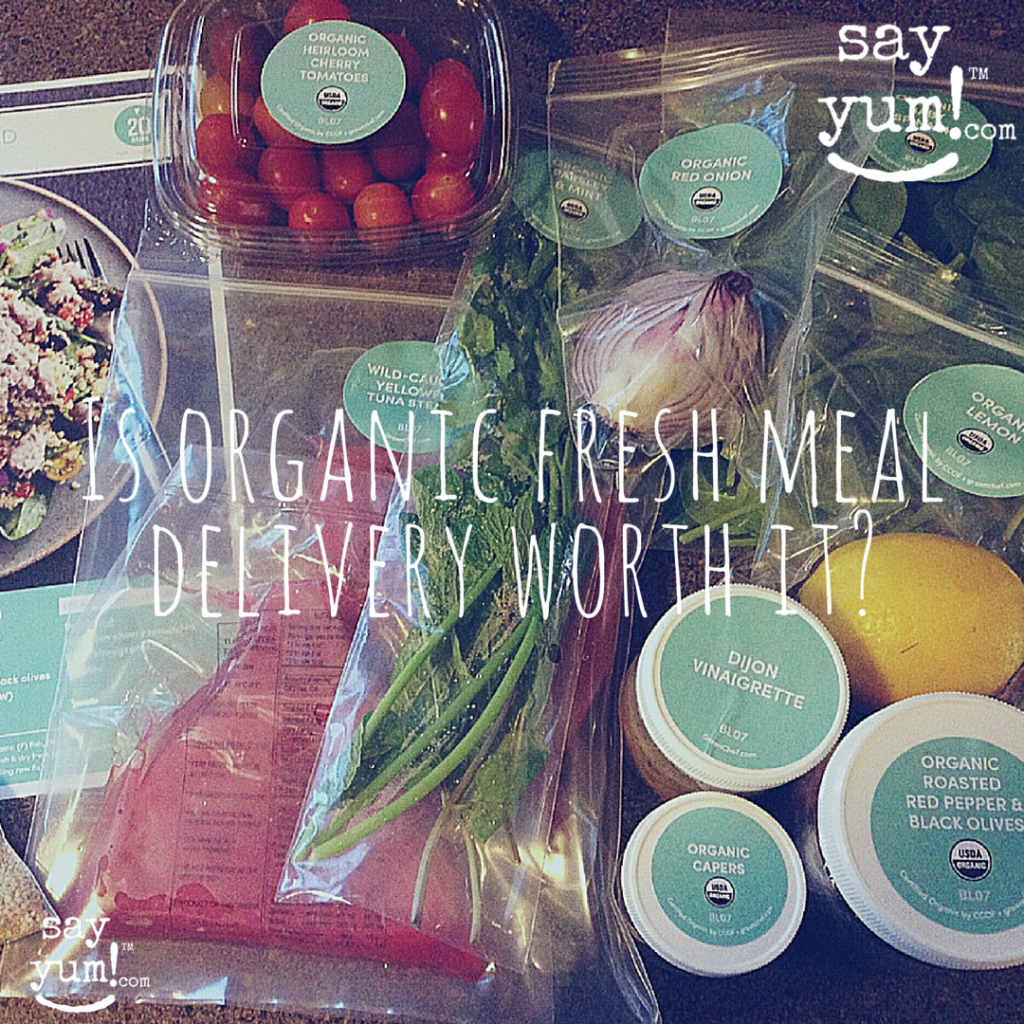 Question: Is Fresh Meal Delivery Worth it?
Off the bat, this is a whole-hearted, unbiased love letter to Green Chef, an organic, fresh meal delivery service, for which I have received no compensation. This experience transformed dinnertime from a chore to a fantastical, new adventure each night that I cook from their weekly box of delicious delights. For that I feel everyone should know about them, in hopes that someone else's dinner may bring them as much pleasure as it does me because it:

After getting burt out on weekly meal planning, and grocery shopping I didn't know I what I needed but knew relief was in order. Seeing ads for other meal delivery services like Blue Apron, Hello Chef and Plated, none of them really called to me. I personally thought they were overpriced and I could make better meals at home, so I stayed away. I received an email from Groupon one day and it was half price for an organic, fresh meal delivery with organic meal ingredients, ready-to-cook and delivered to my front door. I knew I needed to inject new life into our dinner time routine, and proceeded to signup for Green Chef using my Groupon.
Saves Time
Trying out Green Chef for a few weeks made me realize how much time I saved augmenting our weekly meals with their deliveries.
Prior to Green Chef, I spent A LOT of time planning meals, preparing a grocery list and shopping. Now, I consider myself an organized domestic manager i.e. the person who got the job of meal management in my family. I thrive on making weekly meal plans that are efficient and delicious. To do this I plan using ingredients in more than one meal, use planning tools like spreadsheets with our favorite meals and online shopping lists. However, this organization still somehow results in me spending a butt-load of time reviewing what we have left in our fridge, deciding what I am craving this week, determining where I have the time and energy to shop, actually shopping, and finally putting away all the groceries.
I noticed when I received a fresh meal delivery from Green Chef, I recouped a significant part of that butt-load of time. Since I had less meals to think about, I spent less time meal planning, less time in the grocery store (since I had less to shop for) and less time putting away the groceries. Score! Also, no matter how fast my go-to weeknight meals were, Green Chef meals are always easier and quicker to prepare than mine, which is huge for our family of four.

Fresh meal delivery is also invaluable to us when scheduling it for the day we return from vacation. There's no returning home to an empty fridge and having to eat out yet again or rushing to the store exhausted from traveling. Instead there's a box ready to be excitedly unloaded into the empty fridge with delicious experiences to be had.
Reduces Stress
With so many drains on our mental energy and well-being in our world, I enjoy finding ways that eliminate them, which Green Chef deliveries accomplishes. Their fresh meal delivery does that through increasing my brain's bandwidth and eliminating meal guilt from my children.
Meal planning decisions are not automatic for me. Though many advise to make weekly plans that you reuse, my stomach and brain are not satiated by a constant rotation of the same food because it bores me. Also, my body any given week craves different things, and if I don't eat them, I'll end up eating more of something that I didn't want to begin with, leaving me unsatisfied and prone to packing on unnecessary pounds.
My decision making capacity is also one of my biggest skills that needs strengthening, i.e. it's like climbing Mount Everest to make a decision. The best part about Green Chef is that I don't have to decide!!! There's no humming and hawing over what meals to plan, no pouring through my Pinterest boards or cookbooks for ideas…It's done, checked off the list, and my brain saved all that energy thinking about what we will eat. Energized already!

Green Chef also turns off the guilt-switch in my brain over exposing my kids to new meals. Sure, I love food, cooking and trying out new creations. I'd make new recipes and be faced with the automatic responses of "I don't like that!" or "Ewww, gross. I'm not eating it." Over time, I learned to maintain my inner peace when faced with those reactions because I established an expectation in our home where you try EVERYTHING. I also remind myself that kids are allowed to have an automatic reaction to things, and I was the WORLD'S pickiest eater growing up. Determined not to allow that cycle to repeat (even though I came to love food and cooking eventually) in our home – you don't have to like it, or eat more, but you must try it if it's being served – even when you have tried it before and not liked it.
When the Green Chef box appears though, the decision came from them, not me. For some reason, when I wasn't the one responsible for meal choices, even though I am the one deciding that these boxes appear, it is mentally different for me. It provides a vacation from guilt, and I'll take those any day.
Saves Money (In Some Ways)
It's no secret. The per meal costs of Green Chef and all fresh meal delivery isn't cheap. I don't deny that. You can absolutely spend less feeding your family, but it depends on what and how you're feeding them. With our inclinations to eat out (usually resulting from being bored of what we have on hand) and amount of food waste, I save money.
I'll spend anywhere from $25 to $100 when eating out with the fam depending on if it's fast-food, casual or sushi – and that's for just one meal. With Green Chef, I spend $81 for three meals delivered and organic. Now, I'll supplement the meals with a side dish that I know the kids like so they have something familiar, and reduce the chances of a revolt. Considering that's about $3 a side, lets's say I spend $90 for three meals equating to $30 a meal. That results in an infinitely healthier and more pleasurable experience than a trip to McDonalds, and I didn't even have to get in the car.
Another trick I use to lower the cost is I order meals for two people (which is $81), not four, even though I am in fact feeding four. The bottom line is my kids are still young, 7 and 9, and don't eat like adults yet. Through the addition of my own side dish, and the adults eating less that half of the meal, we always end up with more than enough and are fully satisfied.

One of my favorite places to shop is Costco and they have amazing prices on groceries, especially the organic ones. However, despite my best intentions to eat every single vegetable, lettuce green or fruit that comes in a warehouse size package, we rarely consume everything. That results in food waste, and money I'm literally throwing in the trash. Since using Green Chef, I've noticed my food waste decreased substantially, almost to zero and also makes weekly fridge clean up day much quicker – time saving bonus!
Tastes Delicious and Experience New Flavors
Not to brag, but I make delicious food. My reluctance to trying any of these fresh meal delivery services was that I believed there was no way anyone could think of recipes that I deemed would be as tasty as my food. After trying Green Chef, I fully admit to being wrong. Their meals are frigging delicious, and I have a very discerning palette. Not only do I enjoy the food, but my husband has as well. My kids even found new things they like, like my daughter's enjoyment of a bulgar-feta salad or my son's appreciation of a cumin spiced, grass-fed, flat iron steak. Kid approval is the ultimate success and is worth its weight in gold.
As inspired as I am with food, the majority of ideas gathered from the Food Network, my cookbooks and Pinterest boards are left untouched when it comes to typical meal planning. Tried and true rules the week, usually with new recipes reserved for special occasions and that gets boring.

Green Chef makes new recipes effortless and creates flavor adventures for me and my kids. Their recipes are not ones I would plan on my own, and usually have one seafood dish, which I usually wouldn't plan on my own. Although easy, cooking seafood isn't something I typically plan due to childhood experiences of my mother buying old fish. It totally turned me off and took me over 20 years to learn to enjoy it. Part of my regular meal planning repertoire consists of using one ingredient in multiple recipes and normally would not find myself eating such different proteins in a week. I subscribe to Green Chef's omnivore plan, which results in two animal proteins and one vegetarian meal each week. You can select which proteins you'd like to exclude as well. So I love getting to enjoy a variety of meals with ingredients that I wouldn't buy in a week and are delicious!
Be Organic and Healthy
Having children sparked an awareness in me about what I was eating, and therefore feeding them, which I didn't consider before. Over time I learned about and began to value the importance of eating organically and sustainably. I don't always purchase these things as they might not be available on my shopping trip that day, but when I can buy them I do. Also, when I eat out, I still consume conventional ingredients. So I'm not an organic food snob, I just do the best I can when I can. It's little changes like these that shift the future of food in our society.
I understand everyone has different priorities but encourage everyone to put thought into the quality of ingredients that go into your body. I believe it's important to realize over the coarse of 10 years or so, with the exception of your brain's neurons, your body regenerates itself. The source of the molecules that it uses is the food you put into your body. I prefer that food be a pure and as happy as possible. The idea of eating a bunch of pesticides or manufactured ingredients doesn't sound appealing to me, nor do I feel good about the idea of the animals being raised and killed in questionable environments.
Almost all of the ingredients used by Green Chef are organic, and the proteins are sustainably raised. They list their suppliers on their website, so you can always research where your food comes from.
Although I enjoy the health benefits of eating organic and sustainable meals, as someone who's in the process of becoming healthier through weight loss (over eight pounds down so far!), the amount I eat is very important to me and I use Weight Watchers e-tools to track this. Green Chef posts their recipes online well in advance of delivery. I use this information to pre-plan my meals and calculate the SmartPoints value of each meal (SmartPoints are what Weight Watchers members use to track food intake – instead of calories).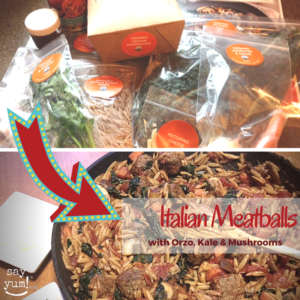 I noticed that most meals are high in SmartPoints but devised hacks to bring the value down to a reasonable 8-12 points which is my target range for an average dinner. To do so I calculate the portion of the meal I actually will eat, which is about a third, not the half listed in their nutritional information. Also, when sauces and condiments use high fat/calorie ingredients I hack the recipes to create lower points versions that are equally as delicious. Between pre-planning and hacking the recipes, I've created my own figure friendly versions of the meals, and the bit of extra time I take in doing so takes less time, are healthier, and more fun than doing it all myself. Green Chef if you're listening, there's a market out there to offer your fresh meal delivery in lower-calorie options – I can help 🙂
I'll be posting my figure friendly, Weight Watchers plan-friendly hacks here soon, so sign up for the newsletter so you don't miss out.
Concerns
As someone who drives an electric hybrid, has solar and who's day job is in sustainability I do cringe when I see the amount of packaging used to ship my meals. The good news is the cardboard and plastic containers are recyclable. I save many of the containers and use them for packing lunches. I am also hopefully going to find someone who can use all the icepacks and cushioning accumulating in my garage; Craigslist is a beautiful thing. Green Chef does mention you can dump the gel in the trash and recycle the casing, and the cushioning is biodegradable but would rather see them be reused since they are perfectly good.
The cost might turn many people away. I do understand that. However, based on the savings, convenience and other non-monetary benefits it makes any the premium that I pay completely worth every penny of this delicious, life changing, organic, fresh meal delivery service.
Answer: Yes – for some.
I tried Green Chef, and I LOVE it! It provides a much needed relief to the repetitive chore of meal planning, purchasing and preparation by reducing the effort involved to feeding your family. Both of us work full-time, so time with the family is precious, but I love to cook, and eat healthy. A box of meals delivered to my door every week is the best present I could buy myself and my family. I experience such pleasure pouring myself a glass of wine and having a new food adventure each time I cook one of their meals for everyone. Wouldn't you like to do the same?
Green Chef offers four free meals to anyone who signs up through my referral link provided below. So if you would like to try it, go ahead and sign up using this link. You can cancel anytime and can edit your delivery schedule to any frequency you wish using their easy-to-use delivery calendar. For full disclosure, if you receive a second delivery, I receive an account credit.
Use this link to receive four free meals from Green Chef:
https://greenchef.com/invite/9gbma
If you try it out let me know what you think, or if you have any questions feel free to comment below of reach out to me on any of my social media channels.
Comments