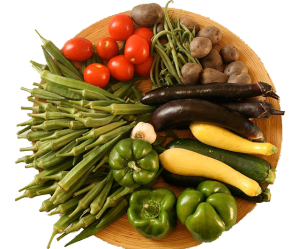 12 Nov

cnsumer supported agriculture: it's all good
It's my first time trying out CSAs and I'm happy to say yum! What a wonderful idea. The concept is simple. Sign up for a delivery of some type of food directly from the source and basque in the delicious, seasonal, local bounty you receive. Perfection!
CSAs are a pretty new concept to me but are certainly not new themselves. CSA stands for Community Supported Agriculture. Farmers organize themselves to create a food delivery that embodies the freshest food available. Depending on the organization and your preference, delivery schedules vary as does your ability to select certain items. The bottom line is you end up with fresh food in your home.
About ten years ago vegetables were certainly not well represented in my diet and thoughts about taking care of the earth were few and far between. Something about having children piqued my desire to make sure I teach them about healthy eating and being good to Mother Earth.
Currently we're subscribed to a produce and meat CSA. This ensures we are eating fruits, vegetables and meat that is in season, local and chocked full of vitamins. I know our food is fresh, yummy and happy! I think happy food is better for the body. I feel food offered through CSAs is happier and healthier because they are grown and tended to by people who are passionate about their product. This results in delicious products that I am happy to purchase. It's also great to know that the food we are eating comes from close to home.
Besides the amazing health and environmental benefits, I love how CSAs are a cure to my indecisiveness about what to eat and apprehension about purchasing food with which I'm not familiar but that is super healthy. Up to this point my vegetable diet was not very robust. I found myself sticking to ones I cooked with before. Now since someone else decides what to eat this week and delivers it, I feel a huge relief. I am now free to use my energy to research new recipes, which I love to do. Having varying ingredients each week allows me to express my creativity and try some new things to come up with delicious meals. This process also motivates me to find ways to consume all the goodness from our mystery boxes.
Between the relief of the burden of shopping, added benefits of knowing I'm supporting farmers in my community and the extra boost my body gets from eating more vegetables and humanely raised meat, I SAY YUM to CSAs! Why don't you try one out this week?
Comments