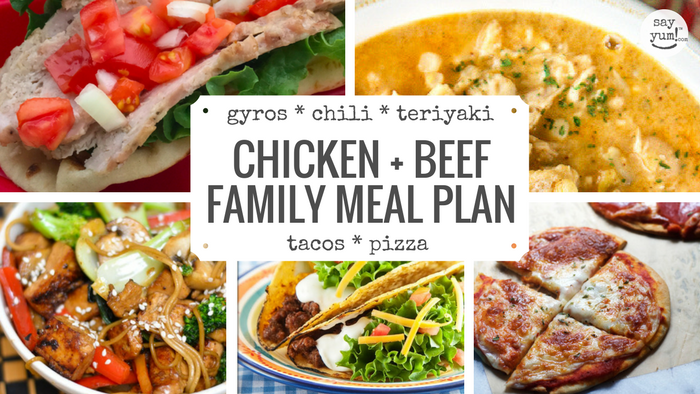 04 Apr

Comfort food under 500 calories | Chicken and Beef Family Friendly Weeknight Dinner Meal Plan

Yes you can have pizza, tacos, chili and more under 500 calories and with only 15 ingredients! Featuring taco Tuesday and pizza Friday, these chicken and beef family friendly weeknight dinner meal plan will keep everyone well fed next and make dinner time a breeze with these simple recipes.
chicken and beef family friendly weeknight dinners
prep ahead options
Chili: Chili always tastes great the next day. So if you're starting off your week with this recipe, it's a relief come Monday to have it ready to go. Though this recipe calls for a slow cooker, so if you can't make it the day before, it'll be ready for you after work if you prep it in the morning. Get out the ingredients the night before for a calmer morning.
Tacos: Cook taco meat and grate the cheese.
Gyros: This recipe freezes well and it's super simple to make double or triple batches.
Note: See bottom of post for full nutrition facts which are based on my suggestions and accompaniments as described under 'Nutrition' for each recipe.
family friendly weeknight dinners under 500 calories
An untraditional chili featuring chicken and green chilis makes a flavorful and lighter spin on the traditional. Do yourself a favor and grab a rotisserie chicken when you're out shopping on the weekend, and whip this up in the slow cooker after you get home from shopping. This will make Monday a breeze. Figure friendly fixes included cutting the cheese in half and reducing cream by 25%. This leaves you a bigger food budget for accompaniments like tortilla chips and guac or cornbread 🙂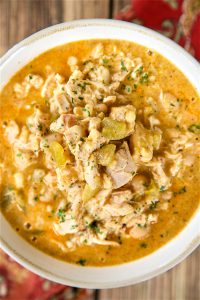 Nutrition: 333 calories, 11 WeightWatchers SmartPoints – made with only 1 c cheese and 3/4 c half + half.
You might already do taco Tuesday, and this meal plan gives you the delicious inspiration for the rest of the week without having to buy a ton of different ingredients. We do tacos so often with crunchy shells that we invested $20 in a set of taco plates to save the frustration of toppling tacos. They also work great for gyros, also featured in this week's meal plan. I love fresh tomatoes on tacos, which is why I always order a taco supreme at taco bell. Their tomatoes are usually not ripe and not particularly flavorful, but that doesn't stop me. For guaranteed fresh tomato flavor at home, Campari tomatoes (found at Costco, on the vine, green house grown) have a fruity aroma and burst with tomato flavor, even in the middle of winter.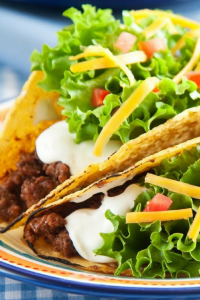 Nutrition: 494 calories, 16 WeightWatchers SmartPoints.
For a meatless meal you can swap out chicken for tofu. When using the Soyaki marinade from Trader Joe's or Soy Vay! you can marinade the chicken or tofu overnight for maximum flavor. Though if you happen to forget, a quick dip for half an hour will still provide lots of flavor. Mushrooms work great for a veggie addition in this meal, and can play double duty used on the pita pizzas later in the week.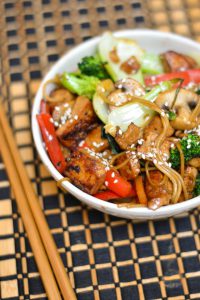 Nutrition: 480 calories, 19 WeightWatchers SmartPoints (due to the high sugar in soyaki) – made with 8 oz (raw) chicken thighs.
Swapping beef or lamb for ground chicken or turkey, is a huge figure friendly fix in this recipe. It also delivers all the flavors you'd traditionally find in this greek street food. Make a double or triple batch over the weekend for an easy to assemble weeknight dinner. Pocketless pitas or naan hold up well to any accompanying tzatziki or juicy tomatoes and play the role of a pizza crust for the next meal.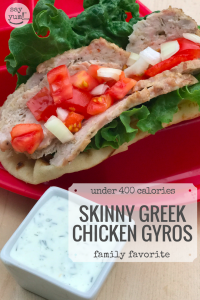 Nutrition: 386 calories, 11 WeightWatchers SmartPoints.
Easy as pie, top with the fridge leftovers recipe ends the week with welcome relief as you can throw together in less than five minutes. For a figure friendly fix, reduce the mozzarella, and top with feta or goat cheese which are flavorfully potent and should be used lightly, which will cut the impact.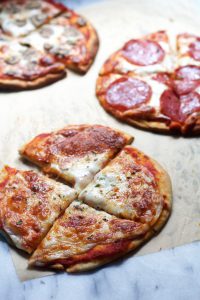 Nutrition: 298 calories, 9 WeightWatchers SmartPoints.
*** reminder – full nutrition labels for above recipes at end of post.
lunch for the week
Turning leftovers into salads are a no-brainer, solution for workweek lunches. Tacos turn into taco salad and pitas can be toasted with some garlic as croutons for a gyros salad with any leftover gyros meat.
lettuce (4 heads romaine), plain greek yogurt, buffalo sauce, extra chicken (2#), ranch, jalapenos
simple lunch ideas
Both of these salads are excellent mason jar recipes. Add the wet ingredients at the bottom, then chicken, lettuce, and remaining ingredients. Alternatively pack the sauce in a separate container than lettuce and other ingredients.
taco salad
Ingredients: salsa + yogurt (for dressing), chicken, lettuce, jalapenos (optional), and onions.
chicken gyros salad
Ingredients: tzatziki + sriracha (for dressing – or thin with extra lemon and vinegar), chicken gyros meat , lettuce, jalapenos (optional), green onions, cucumbers and tomatoes.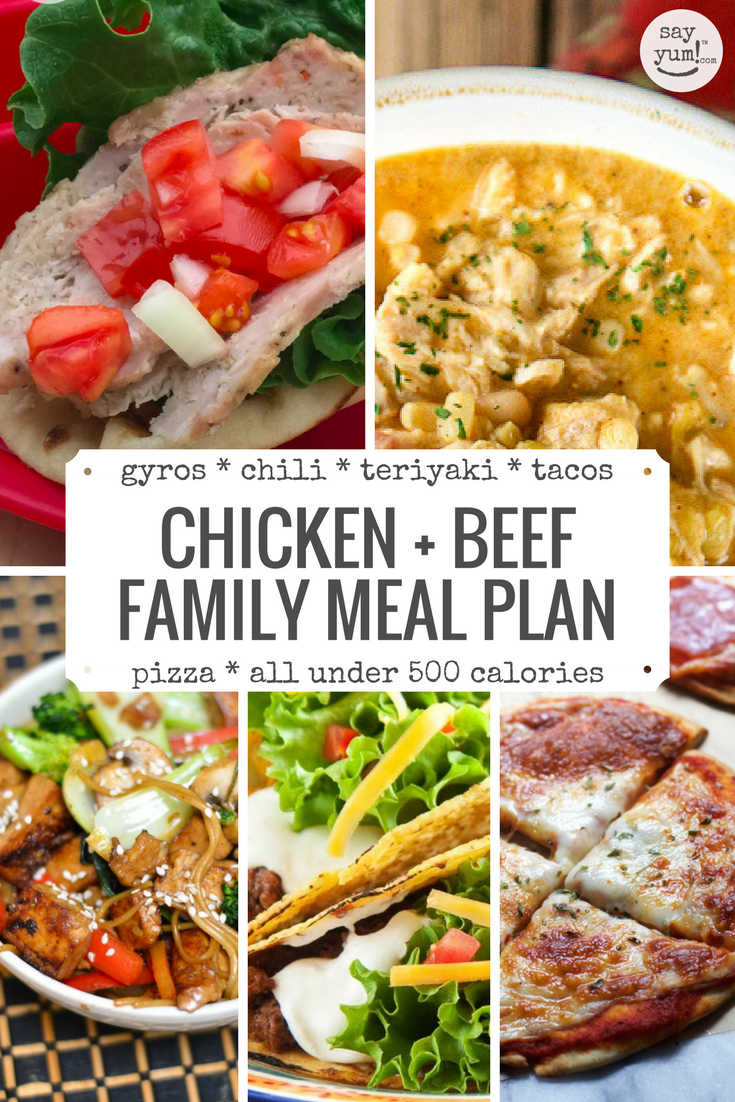 shopping list for 5 kid-friendly, easy, spring weeknight dinners
MEAT + DAIRY
 1. chicken
2. ground beef
3. pepper jack
4. feta
5. mozzarella
6. Greek yogurt
PRODUCE
 7. tomatoes
 8. cucumbers
 9. mushrooms
10. corn (fresh or frozen)
PANTRY
11. green chilis
12. white beans
13. teriyaki sauce
14. tomato sauce
BREAD
STAPLES
lunch + dinner for the week add ons shopping list
MEAT + DAIRY
 extra chicken
 extra ground beef
PRODUCE
chicken and beef family friendly weeknight dinner meal plan nutrition labels





Comments