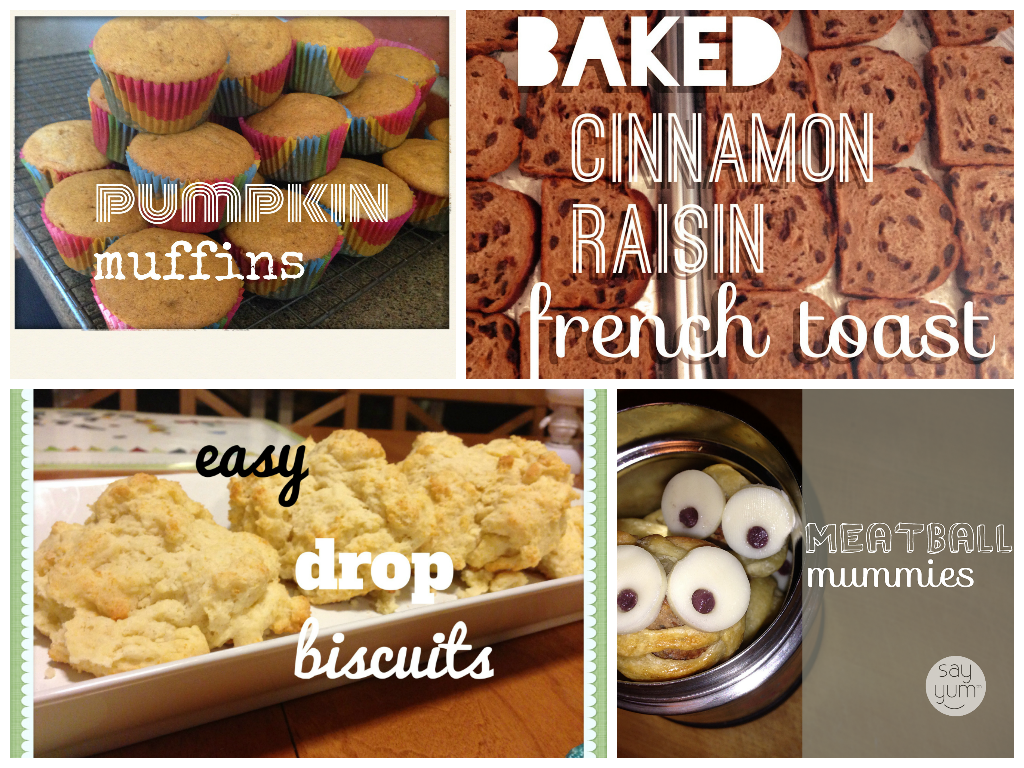 14 Oct

batch cooking: french Toast, pumpkin muffins, meatball mummies and chicken pot Pie with biscuits

'You are prepared!' was my six year old son's response to showing him the treasure trove of culinary delights currently residing in my freezer after my batch cooking session yesterday. 'Yes, yes I am prepared' I thought to myself, and it felt really, really good. It made the time spent shopping, and batch cooking feel well spent and I felt accomplished. As someone who grapples with the tendency to procrastinate, my current mantra is to practice doing what needs to be done as far in advance as possible. Note, I said practice. One does not change from a procrastinating, aspiring perfectionist to a master of timeliness overnight, despite my best efforts to secure mysterious potions from magical woodland characters that promise me such things. I am slowing though slowly improving as a result of prioritizing things better, setting strict boundaries on task times, and being mindful of my goal to to do things in advance.
Evolution of Batch Cooking
Since "I'm HUNGRY!!!!" is the first thing my son says upon waking in the morning, batch cooking breakfast meals was something I've done for a while. Now cooking other meals in batches has become a necessity after returning to work full-time. I love food and am trying to take better care of my body; so serving packaged meals or eating out every day is totally unappealing to me and my budget. Thus, I've immersed myself in the world of batch cooking. I want to be in control of  my family's meals, and enjoy flavors that cannot come out of a box. That's not to say we don't have our nights of mac 'n cheese out of the box (my attempts at a homemade version have only been a success with 50 percent of the small humans in my household). If we do have good ol' cheesy noodles I buy the natural, organic version and make it my own; I make it super creamy by skipping butter, halving the milk and adding a tablespoon or so of mayonnaise. My batch cooking passion allows me save time, and puts my time saving appliances to work (pressure cooker, bread machine, and crock pot). Preparing the majority of food for the week so I can sleep in just a bit and enjoy a bit of extra time with my children after school is the ultimate reward of taking the time for cooking in advance.
Choosing to Enjoy the Every Day
I've realized in life, the things I need to do like prepare meals, clean, and pay bills become more enjoyable if I can have fun with it. I don't see the sense in making any non-negotiable chore feel worse with a sour attitude and resentment. When choosing recipes for batch cooking, I derive pleasure in delving deep into Pinterest to find lunch ideas my kids will have fun with and enjoy. That's why I made meatball mummies, and sandwich monsters last week. Dressing up every day food for Halloween or any season adds excitement to the daily chore. I've also made mental competitions for myself to see how many things I can prepare within a short window of time, and how clean I can keep the kitchen while I'm blazing through all these batch cooking recipes. I really do believe if I'm making food in a way that is loving and playful, they will feel more nourished.
Culinary Creations
This week to fill my kids bellies in the morning I made two loaves of cinnamon raisin bread in the oven, as well as a double batch of pumpkin bread resulting in two dozen muffins and one loaf of the lightest, fluffiest pumpkin delights you can imagine!
These batch cooking marathons always leave me hungry, so I finished the day with chicken 'pot pie' and made biscuits instead of using pie crust. The kids even liked it, so I consider that a success!  I used this biscuit recipe from Real Simple, that is exactly that, real and simply delicious. Yum!
October Batch Cooking: French Toast, Pumpkin Muffins, Meatball Mummies and Chicken Pot Pie with Biscuits
Author:
Kris Johnson at sayyum.com
Recipe type:
Breakfast, Lunch and Dinner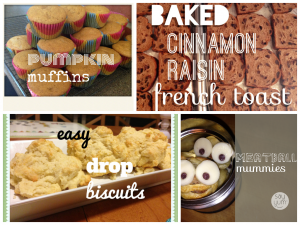 A list of dishes made in a session for batch cooking.
Ingredients
24 pumpkin muffins
1 loaf pumpkin bread
2 loaves raisin bread
25 meatballs
16 oz pizza dough
9 biscuits
chicken pot pie filling
Instructions
All of these items can be prepared in advance and freeze well. Recipes for each will follow.
Comments