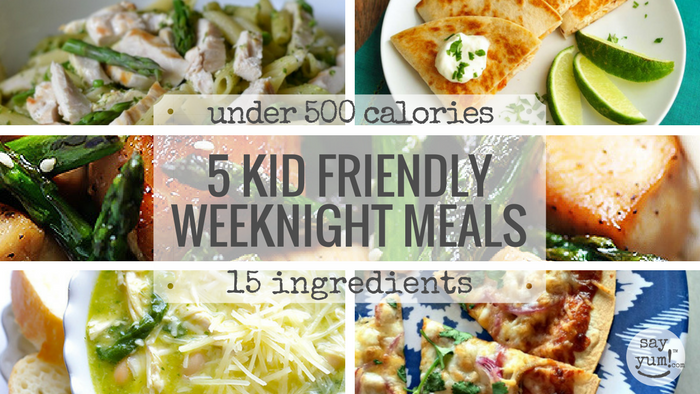 21 Mar

5 kid-friendly, easy, spring weeknight dinners under 500 calories | free meal plan, shopping list, lunch ideas + nutrition info

Arousing from hibernation, spring awakens my sleepy soul igniting cravings for lighter meals and tender, sweet green veggies.  California is in full bloom and life seems to pick up the pace as dinner arrives frantically each night. This meal plan brings freshness and time, allowing you to check out in the express lane with only 15 ingredients for 5 kid-friendly, easy, spring weeknight dinners including seasonal fresh asparagus and peas. All meals are figure-friendly, under 500 calories and 14 SmartPoints or less. Also included are a convenient shopping list, full nutritional info, and office lunch ideas which add only five more ingredients to your shopping trip for a week's worth of lunches.
spring weeknight dinners under 500 calories
prep ahead
Only the stir-fry chicken requires a sauce. So cook chicken for pizzas, quesadillas, pasta and soup at once for a big time savings later in the week. Be sure to season chicken with salt and pepper. Garlic salt also adds another layer of flavor, but balance the salt levels and use less of your regular salt if using garlic salt. Cheese can also be grated in advance for the pizza and quesadillas.
Note: See bottom of post for full nutrition facts which are based on my suggestions and accompaniments as described under 'Nutrition' for each recipe.
kid-friendly weeknight dinner recipes
Chicken thighs are so forgiving in the pan and taste more like chicken than their bustier counterparts. That makes the extra calories and fat a worthy exchange for my mouth. To work the scale in my favor, cauliflower rice makes an excellent substitution for regular rice. The recipe as written does not specify rice, so remember to cook it so it's ready before you do the stir-fry since the chicken and asparagus will cook quickly.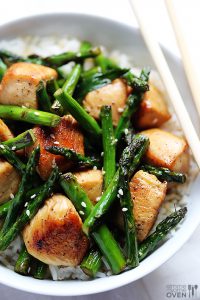 Nutrition: 470 calories, 13 SmartPoints – served with 3/4 c white rice and chicken thighs instead of breasts or 400 calories, 12 SmartPoints – served with cauliflower rice and chicken thighs.
This elegant, simple meal makes dinner a snap and uses up the rest of your asparagus. Zucchini noodles (zoodles) using a spiralizer (I love my KitchenAid one) lower the carbs and calories and maintains the dish's pasta like-quality if you swap out the zoodles for half the wheat pasta. Though subbing out all the pasta is still delicious and an enjoyable gluten-free, paleo and low-carb meal. For extra time savings during the week, remember to cook up all the chicken when you make this dish.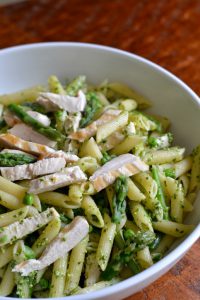 Nutrition: 495 calories, 13 SmartPoints – made with chicken thighs or 365 calories, 12 SmartPoints – served with half of suggested pasta and adding in zucchini noodles.
A thin-crust version with a smokey twist. Drizzle with hot sauce and ranch for extra pizzaz. For paleo and low-carb options, try a cauliflower pizza crust (super yummy – just squeeze out all the water or it will be soggy:) . If you precook the chicken or use a rotisserie, assembly is super fast. Nutrition facts include using cheddar to top the pizza, but smoked gouda, Monterey jack and pepper jack would all compliment the BBQ sauce nicely and not impact the calories.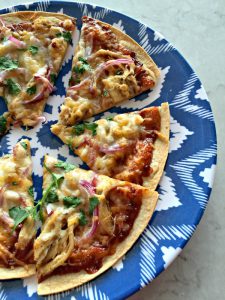 Nutrition: 450 calories, 14 SmartPoints – made with 4 oz (raw) chicken thighs and 1/4 c cheddar per serving.
The same pesto from the pasta dish brings big flavor to this simple soup. If you have extra peas, they'd make a welcome addition and beef up the nutrition. Typical sides like a fresh baguette (for another 250 calories with butter) and a green salad would round out the meal.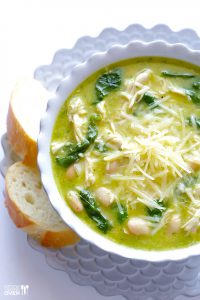 Nutrition: 322 calories, 13 SmartPoints – made with 8 oz (raw) chicken thighs.
If you're feeling adventurous, stray from the recipe and use up any leftovers on the verge of perishing in your fridge. Pesto, mozzarella or feta with chicken and spinach would be a well-paired combination and use of any potential leftover ingredients from this menu. If going the Mexican flavor route, spice it up with jalapenos or hot sauce and garnish with cilantro for a flavor boost.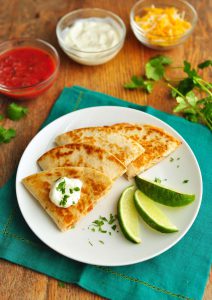 Nutrition: 450 calories, 13 SmartPoints – made with 8 oz (raw) chicken thighs.
*** reminder – full nutrition labels for above recipes at end of post.
lunch for the week
After planning 5 kid-friendly, easy, spring weeknight dinners all you need are two different lunches which make eating better even easier. Alternating the choices and mixing it up with any potential dinner leftovers or a meal out avoids too much repetition for your taste buds and eases shopping and meal prep. With these five extra ingredients, you can make two people, four weekday lunches and relish in your meal planning abilities:
lettuce (4 heads romaine), plain greek yogurt, buffalo sauce, extra chicken (2#), ranch, jalapenos
simple lunch ideas
Both of these salads are excellent mason jar recipes. Add the wet ingredients at the bottom, then chicken, lettuce, and remaining ingredients. Alternatively pack the sauce in a separate container than lettuce and other ingredients.
taco salad
Ingredients: salsa + yogurt (for dressing), chicken, lettuce, jalapenos (optional), green onions and cilantro.
buffalo chicken salad
Ingredients: buffalo sauce + ranch (for dressing), chicken (toss chicken in buffalo sauce if extra saucy chicken is desired), lettuce, jalapenos (optional), green onions and cilantro.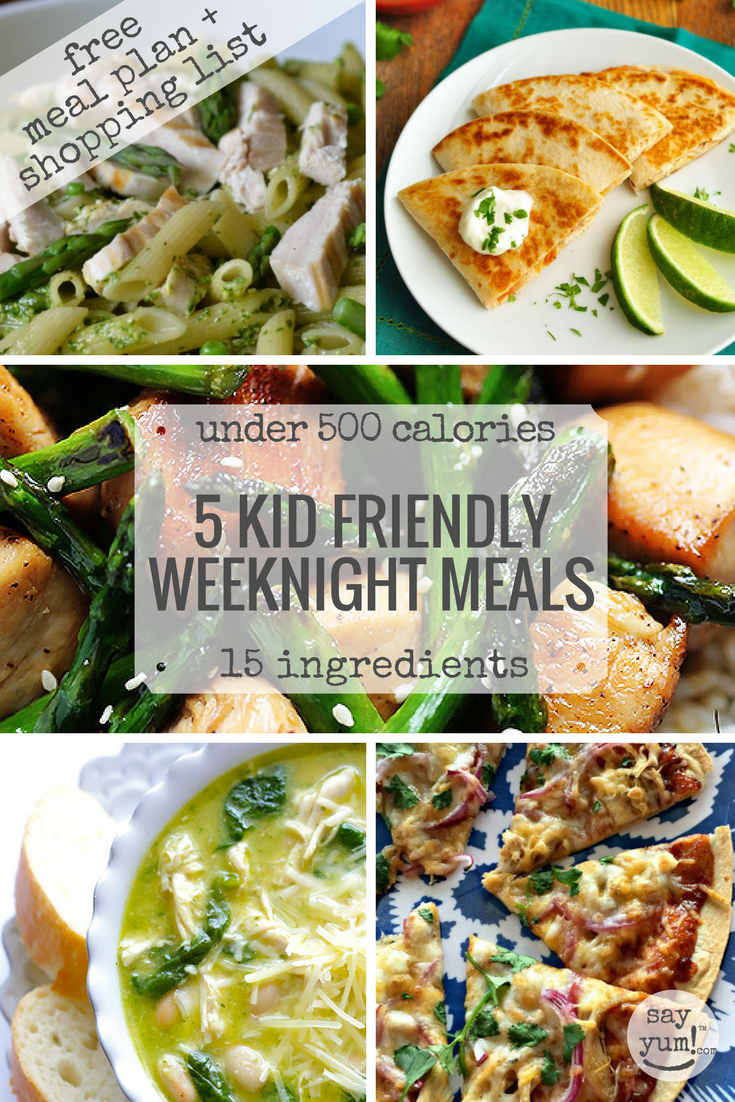 shopping list for 5 kid-friendly, easy, spring weeknight dinners
MEAT + DAIRY
 1. chicken – 3#
2. cheese (bbq pizza and quesadillas) – 1 c shredded
PRODUCE
 3. green peas – 1 c
 4. asparagus – 2 bunches
 5. spinach – 1 bag/3 c
 6. green onions – 1 bunch
 7. cilantro – 1 bunch
 8. pesto – 1 jar (refrigerated ones tend to have better flavor)
PANTRY
 9. salsa – 1 jar
10. cannellini beans – 2-14 oz cans
11. chicken stock – 8 c
12. penne pasta – 1#
13. rice – 2 c
14. sesame oil – 2 t
BREAD
15. flour tortillas – 8-6″
STAPLES
soy
honey
olive oil
bbq sauce
garlic
red onion
lunch + dinner for the week shopping list
MEAT + DAIRY
 1. chicken – 5#
 2. cheese (bbq pizza and quesadillas) – 1 c shredded
 3. greek yogurt
PRODUCE
 4. green peas – 1 c
 5. asparagus – 2 bunches
 6. spinach – 1 bag/3 c
 7. romaine – 4 heads
 8. green onions – 1 bunch
 9. jalapenos 3-4
10. cilantro – 1 bunch
 11. pesto – 1 jar
 12. ranch
PANTRY
 13. salsa – 1 jar
 14. buffalo sauce
 15. cannellini beans – 2-14 oz cans
 16. chicken stock – 8 c
 17. penne pasta – 1#
 18. rice – 2 c
 19. sesame oil – 2 t
BREAD
 20. flour tortillas – 8-6″
meal plan nutrition labels
chicken + asparagus stir fry

pesto chicken, asparagus + pea pasta

BBQ chicken tortilla pizza

5-ingredient chicken pesto soup

quick chicken quesadilla

Comments